Made in Germany. At home around the world.
The quality of our work has spread – internationally. Around the world, customers appreciate their Conservatory built by us. To ensure that everything is correct and consistent, we abide by the conditions of the house and especially of the country.
Of course you can let yourself be inspired by the different models we have to offer – however, there is no limit to your imagination and ideas. We are happy to help.
Dubai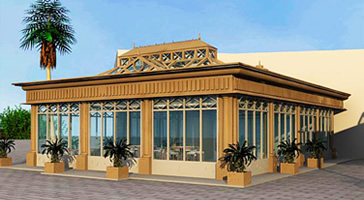 The colours of the desert – light and darker shades of beige in perfect harmony, just as the example provided by nature.
The elaborately decorated roof construction literally tops it all off.
Since the Conservatory is fully air-conditioned, there are only a few opening elements.
Kazakhstan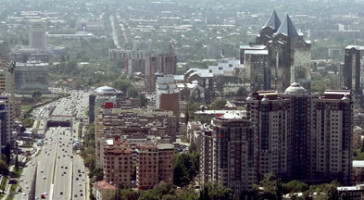 Our "Made-in-Germany" quality made its way to Kazakhstan. In Almaty the spacious roof area of an apartment house received an addition of a Conservatory in L-shape, from a wood-aluminum construction. Not only the location on the roof is special about this project. An integrated fireplace room, a large lounge and a spa with a pool of 20 square meters invite you to relax.
England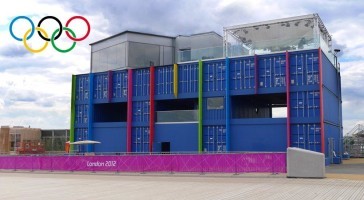 The studio in London is similar to the one in Cape Town. On behalf of BBC Sport another TV transmission Studio was mounted close to the Olympic Stadium in 2012. Special features of the Studio were the location on top of the roof of a container castle and the generous Canopy. From this Studio many live reports were transmitted throughout the world.
Russia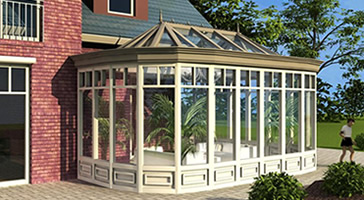 The building contractor thought a Conservatory entirely in white would be a little too plain looking and therefore decided to have his roof in agate grey.
He also decided to extend the Conservatory around the corner of the house.
Thus the space provides its residents with many hours of daylight from both sides.
Norway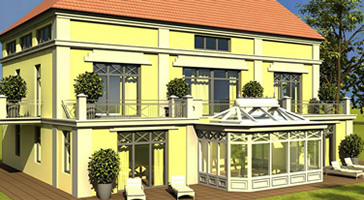 The focus of this project was to create a room flooded in light so that the sun's warming rays can be soaked up and enjoyed even on chilly days. Therefore, the resulting structure was a smaller, more luxurious version of a white Conservatory.
Here the window decorations were integrated in form of diagonal window bars.
South Africa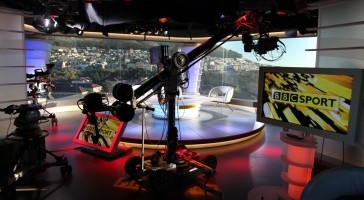 A commissioned TV transmission studio in large glass structure was designed on behalf of the BBC London for the 2010 World Cup in Cape Town. This studio, in the form of a self-supporting Conservatory with a diameter of 12 meters, was a particular challenge. Because the studio was mounted high up on the roof of the New Sumerset hospital on the waterfront it offered a breathtaking view.
Switzerland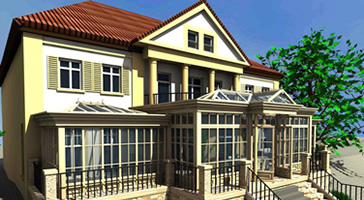 Here, not one, but three Conservatories have been added and, together, they span the entire width of the house. In doing so, the entire terrace area has been utilised to gain additional space.
The roof form and the window bars of the house have been perfectly integrated into the Conservatory.