Handmade in Germany. Out of Conviction.
Our Conservatories meet the highest standards: We focus on "Made in Germany" quality and manufacture our Conservatories in workshops in Germany. With high quality materials and many years of expertise.

Conservatory Form
We can construct semi-circular half-round Victorian or angular Edwardian, classic Conservatory designs, with technically mature finesse. However we are also able to create simple, straight and modern forms. If required, we can also offer a combination of different designs. There is no limit to the design possibilities of our work as we can realise and implement combinations of  different finishes. Imagine your perfect Conservatory with family and friends – we will make your dreams come true.
Unlimited Variety of Forms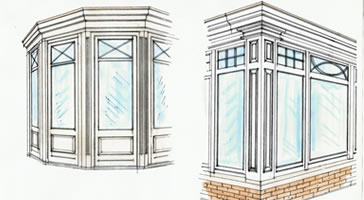 Exclusivity in Outstanding Craftsmanship
Lead Glazing
Lead glazing can upgrade the quality of a Conservatory immensely. However, these works of art have to be well-planned and adapted to complement the Conservatory in a stylistically confident manner. In addition, the inclusion of individual column profiles in the interior is a very popular element with our building owners and clients.
Circumferential crown mouldings in the eave area, with integrated concealed lighting, emphasize the quality with beautiful light effects in the evening.
Lead Glazing and Glazing Bar Profiles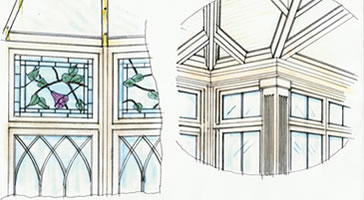 Gothic Glazing Bar Design with Artistic Vitrification
Corner Posts
A gable cornice of an English Conservatory must be positioned optimally over the corner post to preserve the overall impression.
The column profiling of the corner posts can be made in a number of different manners, and of course tailored to the clients' wishes. A capitol is placed above the corner posts to top it all off.
Conservatory Corner Posts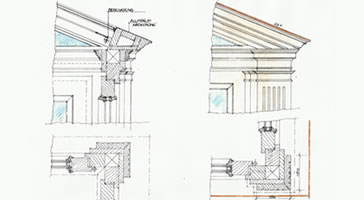 The difference is found in the details.